Advising our customers for curtains is a 'whole of the room' experience we love getting involved with.  By changing a curtain's length and header style; or choosing between a track or pole; and opting for one lining over another, the same fabric can produce dramatically different looks to enhance the environmental characteristics of the room.
Our experienced curtain advisors will talk you through the different fabrics types and explain how the header style you choose will impact how the pattern is shown.  Choosing between a track or a pole will also can have significant practical and aesthetic impacts on the overall appearance of your curtain.
This is where our amazing window dressing app can help you decide.  The app allows us to superimpose the curtain of your choosing onto your windows!  Being able to switching between header types or between tracks and poles can be very useful in deciding on the perfect look for your room. It is a truly brilliant piece of software that really enhances the decision making process.
As a often required complement to our beautiful curtains, clients also request for us to make them fabric covered pelmet boards; matching hand made tie backs; upholstery services for bench cushions and chairs; as well as colour coordinated cushions and throws for sofas and beds.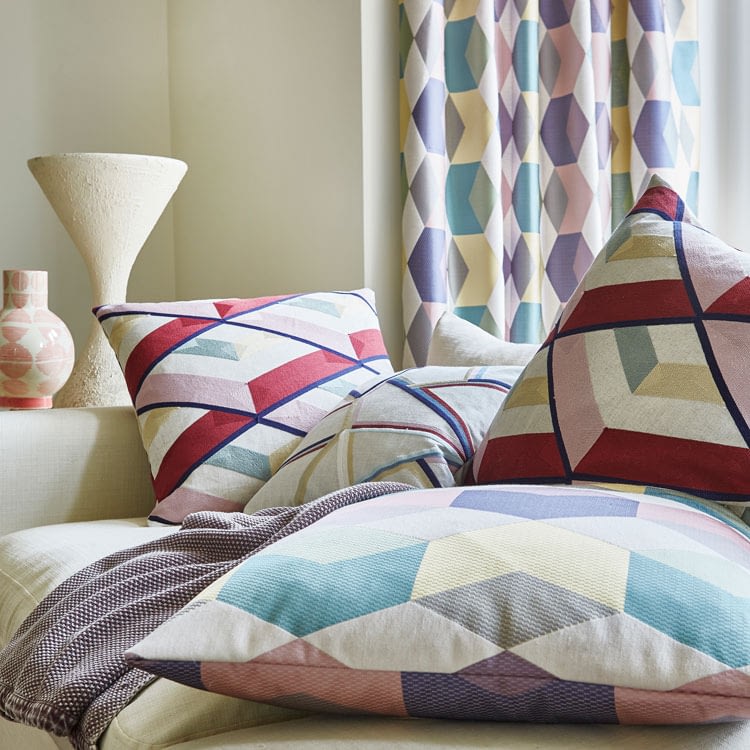 Book an in-home consult or virtual survey with Richard via our online booking system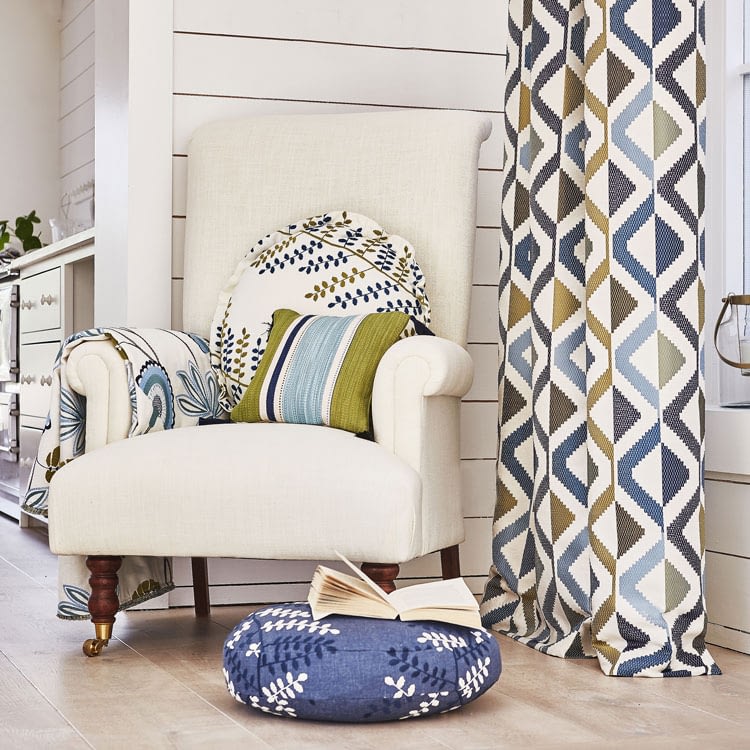 Curtain Heading Styles
It is important to choice the right heading style. Some work best with different weight fabrics while others are bettered suited to patterned materials.  The goal to choose a fabric and header style that perfectly complements all the aspects of your room.
Wave curtains
Hung on a purpose made tracks or poles, this header style creates a soft and continuous wave when drawn. 
Smart, stylish and minimalistic, wave curtains are the perfect look for the modern setting.
Wave curtains look great with both plain, textured or patterned materials  but can often not be made from heavier fabrics.    
Pinch Pleat Curtains
Pinch pleat curtains can come as a double or triple pinch pleat and hung on either a track or a choice of metal or wooden poles.
The double pinch pleat has two folds of fabric in the header and is best suited to patterned fabrics.
The triple pinch is more traditional in appearance with three folds sewn into the header creating more pronounced folds.  
Eyelet curtains
Eyelet curtains provide a contemporary, minimalist look with decorative rings sewn into the top of the curtain.  They are very easy to manage day to day as the dress when simply when opened.
Hung on a metal pole, eyelet curtains have a small stack when pulled to the side making them an excellent choice where there is limited wall space either side of the window.  
Pencil pleat curtains
The pencil pleat name is derived from the header's resemblance to a line of tightly packed pencils.
In comparison to other heading styles, pencil pleat curtains have a less structures fold for a more relaxed look.
Like pinch pleat curtains, the pencil pleat can be hung from either a metal or wooden pole as well as a more traditional curtain track.
Linings
All our curtains come twill lined as standard but we are also able to make them unlined, with blackout lining or interlined. 
Curtain linings are important in can extending the life of your curtains.  Good quality linings increase the fabrics strength and protects it from the degrading nature of the sun's UV rays.
Linings also boost the effectiveness of your curtain to block light and retain heat making curtains an excellent choice for all year round home comfort.
Standard lining
Working best in communal spaces such as living rooms, standard lining gives the curtains structure and diffuses the effects of overpowering direct sunlight while still allowing some natural light into the room.
Blackout lining
Blackout lining keeps the interior of your home dark. Often the preserve of bedrooms, blackout lined curtains look fuller and drape more beautifully. They are also very energy efficient as the polymer in the lining keeps the room cool in the summer and prevents the warm air escaping as easily in the winter.
Interlining
Interlining is an extra thick twill lining that allows natural light to pass through the fabric while providing a cosy, insulating layer to make your home energy efficient and help exclude drafts.
Excellent service from the first consultation to the end result. Knowledgeable, efficient, good communication and friendly. Offered advice and made recommendations for our curtains which proved to be perfect for the room. First class service. Highly recommended.
Richard was brilliant!  The curtains were of a very high standard and were fitted exactly how we had imagined and discussed. We highly recommend SBC as their products and fittings are excellent, and the prices were competitive.
So happy with these exquisitely fitted curtains. Great job and great value. It was a pleasure to deal with Richard.
THE NEXT STEP...
Simply book an in-home consult or virtual survey with Richard via our online booking system. Or fill out our contact form to arrange a call.