Tri-shade blinds are also known as silhouette blinds. They are a beautiful fabric product, combining the most attractive elements of venetian and roller blinds in one product.
What is a Tri-shade blind?
Tri-shade blinds are principally made of two lightweight, sheer fabrics that sandwich a translucent fabric 'slats' in the centre of the blind. These 'slats' or vanes can be rotated, in a similar way to a venetian blind to offer excellent light and privacy control.
When rolled up to the top of the window, the Tri-shade's fabric disappears into the headrail leaving the window completely exposed, similar to a standard roller blind.
We carry an extensive range of contemporary fabrics – from elegant, neutral tones to playful, brighter colours. The Tri-shade blind comes with a choice of well-appointed, aluminium cassette box colours that finish them off beautifully. Colour choices include white, silver, black, cream, anthracite and brown.
What are the benefits of a Tri-shade over a standard venetian blind?
In recent years, venetian blinds have been a very popular choice with our clients. Smart, clean and practical, they are a blind for all environments.  They are guilty, however, of displaying unsightly dust particles that the Tri-shade does not.
The modern trend towards wider wooden venetian slats has created a brighter, less busy look but it has also presented larger surfaces for dust to accumulate onto. The various stings running through the blind can also make venetian blinds a little fiddly to clean.
Tri-shade blinds, on the other hand, are made from fabric and consequently, they do not show the dust as easily. They can also much more easily be cleaned with a hoover.
Tri-shade blinds are also a lot lighter than wooden venetians. On larger windows, they are much easier to raise and lower. Less weight also means less stress on the internal mechanisms of the blind which is good news for the longevity of the product.
The final advantage of Tri-shade blinds is that when they are raised, they do not leave a stack at the top of the blind. This makes them an excellent choice over bi-folding doors and it also means that in rooms where natural light is at a premium, the Tri-shade will make the most of it.
Can Tri-shade be motorised?
As standard, Tri-shade blinds are manually operated using a sidewinder chain but we can also offer both hardwired (mains powered) and lithium battery (rechargeable) motorised options to help with the effortless lifting and rotating of the vanes. Both systems can be linked to your home automation systems including SMART devices like Alexa and Google Home if you prefer voice activation.
At a glance
Elegant, fabric alternative to a venetian blind
Excellent light and privacy control
Practicality of a roller blind – when raised window is left completely exposed
Choice of colours for aluminium cassette boxes
Lightweight – great choice for larger windows and bi-fold doors
Easy to clean
Motorisation options available for ultimate comfortable and away-from-home security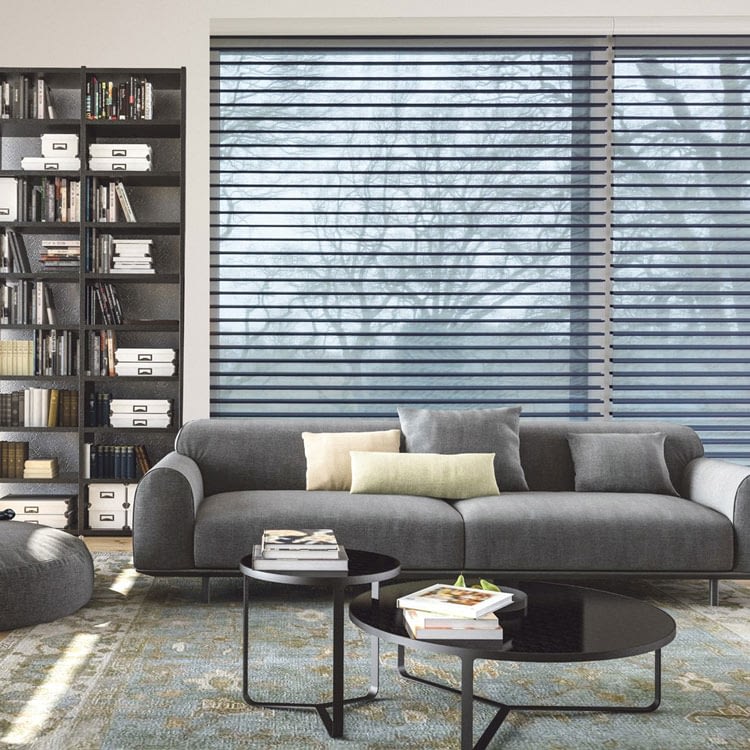 Book an in-home consult or virtual survey with Richard via our online booking system
Have you considered
motorised blinds?
Richard was fabulous from beginning to end. He is very pleasant and hard working. The ordering, price and delivery were all seamless. We are very happy with the end result and would very highly recommend SBC.
Excellent job Richard! We are loving the blinds. It makes a big difference in my rooms. I would recommend SBC shutters/blinds to every one out there. Richard is a professional and top guy. I will call him again definitely.
Gorgeous blinds, fitted super neatly with prompt service. Can't recommend them highly enough!
THE NEXT STEP...
Simply book an in-home consult or virtual survey with Richard via our online booking system. Or fill out our contact form to arrange a call.