Roman blinds are a favourite among homeowners and interior designers alike.
A simple yet elegant blind which hangs flat when lowered and folds into a soft pleated stack when raised.
While they may be considered a stylish alternative to curtains, roman blinds can also be used in conjunction with them. Layering up creates a chic, yet snug, look with added benefit of making your home more energy efficient.
Roman blinds are sophisticated, cosy and space efficient. They can also be made with contrasting borders, beading and other trims to make them even more striking.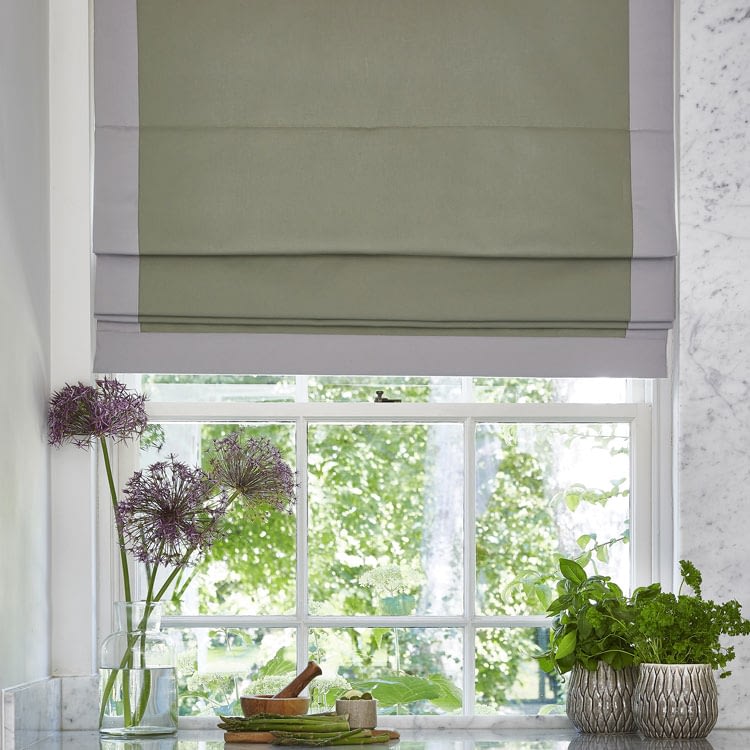 Types of lining
All our roman blinds are made to measure with high quality lining that provides the fabric face with shape and structure. Using quality linings also prevents the fabric from fading when exposure to the sun over a prolonged period.
Standard lining
Standard lining gives your fabric structure but will allow natural light to pass through. Communal spaces such as living rooms will benefit from standard lined romans as they can dilute the effects of direct sunlight into the room.
Interlining
Interlining is a twill standard lining with thick wading added. Like standard lined romans, natural light will pass through interlined fabrics but the extra insulation creates a fuller blind making for an even cosier atmosphere.
Blackout lining
Blackout lining blocks light from passing through the fabric. Most often the preserve of bedrooms, blackout lined romans look fuller and hang more beautifully. They are also excellent for energy efficiency – keeping the room cool in the summer and preventing warm air from escaping in the winter.
Book an in-home consult or virtual survey with Richard via our online booking system
Have you considered
motorised blinds?
Richard was fabulous from beginning to end. He is very pleasant and hard working. The ordering, price and delivery were all seamless. We are very happy with the end result and would very highly recommend SBC.
Excellent job Richard! We are loving the blinds. It makes a big difference in my rooms. I would recommend SBC shutters/blinds to every one out there. Richard is a professional and top guy. I will call him again definitely.
Gorgeous blinds, fitted super neatly with prompt service. Can't recommend them highly enough!
THE NEXT STEP...
Simply book an in-home consult or virtual survey with Richard via our online booking system. Or fill out our contact form to arrange a call.